Universol Green 23-6-10+2.7MgO+TE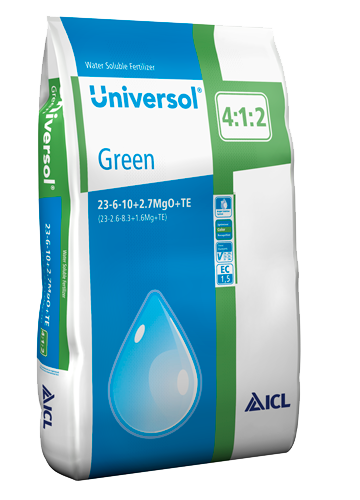 Universol Green 23-6-10+2.7MgO+TE
Universol Green can be applied if growth is the main objective, as the N:K ratio is nitrogen based (2:1). This product contains NPK, Mg and a full package of trace elements.
Easy to apply, safe to use and contains elements: NPK, magnesium, trace elements. Always the same composition thanks to stringent quality control. Quick effect due to strong, fast performance. Dissolves entirely and quickly because of the special ingredients and the 'Bright Solution System'. Excellent price / quality ratio. Always a suitable analysis for your crop.
Universol Green is advised, at the beginning of crop cycle, just after application of Universol Yellow (high phosphate content). For strong growing crops Universol Green can be used for a longer period of time. The product has the ideal balance of immediately available nitrate nitrogen and ammonium nitrogen for mid/long term.
Pack size: 25 kg